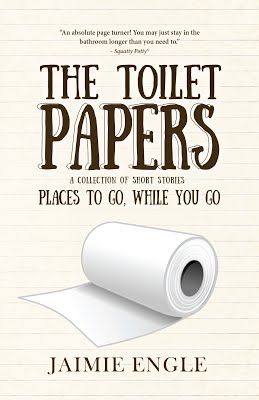 Short story collection (horror, humor, & historical)
Date Published:

7/23/2017
Have you ever noticed that reading a book on the toilet takes forever? Wouldn't it be nice to have stories suited to your specific potty needs? This collection of short stories ranges from 50 words to more than 50 pages, separated in categories labeled to fit your bathroom needs: NUMBER ONE, NUMBER TWO, and FARFROMPOOPIN. The idea is to give you, the reader, a great deal of material to read, tailored and categorized to the needs of your intestines and bladder. So go ahead, get comfortable, pull out your Squatty Potty® and enjoy some fantasy, science fiction, horror, adventure, and humor from the comfort of your own throne…the john…the latrine…your office…the bathroom, whatever you want to call it. Just be sure to wash your hands once you're done.
This novel has a current Amazon Rating of 4.7*'s.
Publisher
Did you miss any of the stops from this Tour?
Jaimie Engle was once sucked into a storybook, where she decided she would become an author. She has modeled, managed a hip-hop band, and run a body shop. She loves coffee, trivia, cosplay, and podcasting on ORIGINS, where myth and science meet (podcastORIGINS.com). Basically, if it's slanted toward the supernatural or nerdy, she's into it! She lives in Florida with her awesome husband, hilarious children, and the world's best dog. She also happens to have the world's best literary agent, Saritza Hernandez. Become a fan at theWRITEengle.com. Follow on social media @theWRITEengle and pick up books at jmebooks.com.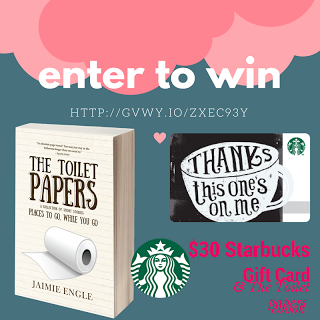 Rafflecopter: July 6 – Aug 6 ($30 Starbucks GC; Toilet Papers ebook)
Goodreads Giveaway: July 1 – July 22 (3 paperbacks)